In this internet – based generation, your website is a reflection of your brand on the social platform, it acts as your identity. Building your online identity is something that needs to be done with utmost precision.
Web Development requires work in three major sectors: initial conceptualization, development and the deployment. Right from helping you choose the right hosting, to developing your envisioned website and making sure it is live and deployed after it's complete testing, leave it to us to make sure you are worry-free.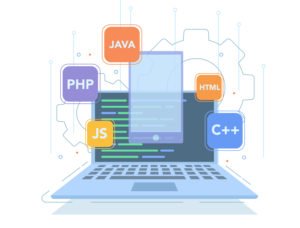 Our Approach
We believe in going back to basics and working out what our clients – and their users – actually need to do. We build the websites from the ground up, using industry standard development frameworks so it's perfectly tailored to your needs and sustainable in the long term.
How We Work
We work with our clients as a part of their team. Putting a strong focus on planning and using the right development and project management techniques, we make sure we deliver on time and on budget.
Our team includes specialists ranging from WordPress to HTML5, CSS3 to PHP. You name it, and we build it!
Conceptualization
Hosting
Deployment
Front – End Development
Back – End Development
Admin Panel
HTML5
CSS3
JavaScript
jQuery
PHP
WordPress
Magento
Shopify